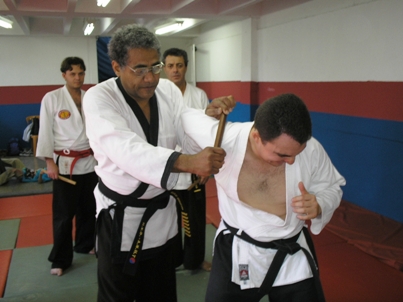 Marcílio Nogueira, was born in october 5, 1953, and was Grand Master Sung Jae Park's pupil. He began training this noble Art in 1972 an Army Artillery Unity, an Elite Group. In 1974 Master Marcílio, associated with Professor Bortoleto, also a Grand Master Park,s pupil, went to the city of Itú (São Paulo- Brazil) where they developed the Hapkido.

From 1976 to 1978 he was owner of an academy at the Tuirassu Street , in the Perdizes Quartes (São Paulo). In 1982 he joined the academia Park, where he fighted for a fixed place for the training of black belts and with the participation of all professors. He was always favourable to the realization of events, aiming the increase of Hapkido.

In 1991, with others professors, he founded the "Paulista Hapkido Federation", as technical director, and now a days he is also technical director of the "National Hapkido League".

Master Marcílio is Tradicional Hapkido's 8 th Dan ( Tradicional Nacional Hapkido Association) recognized by Hapkido's National League , is also an auricular accupuncturist, specialized in Marcial Do-in, therapeutic and sport massage and quiropractice.